Absolutely all body areas are treatable with electrolysis!
There are no side-effects with electrolysis, there is expected initial reaction that heals well quick! If a client isn't wanting reaction we can turn the current lower to minimize reaction, some clients hardly react at all but it's good to point it out so not to get surprised. Electrolysis is very safe and effective on all hair, including any colour, blonde and grey hairs.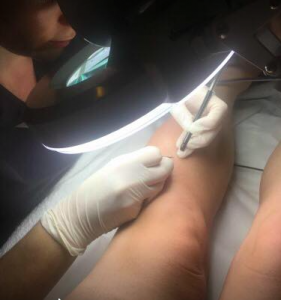 Many things influence hair growth. Through consultation I can tell you how many treatments you will need for the hair to die off. Generally 2-4 treatments on the same hairs results in permanent hair removal. The number of sessions needed and appointment time required to clear the hair is figured out on your first appointment. As there are many elements that affects hair, the time involved will be variant on previous plucking/waxing, laser treatments, the type of hair, thickness, closeness of follicles, medications and other hormonal influences on the hair. If you need laser hair removal to weaken the hair, that is available at Bare Bella.
A treatment plan is in place is where we work out what is best for your routine, it must fit within your life.
Come to Bare Bella in Balwyn North. Consult is free, I have been doing electrolysis for 15 years. It is my favourite treatment! Call 0425765971 or book online!