Lash Lift is such a great treatment to come along, I remember doing the old lash perm years ago which was not fun.
Lash Lift is a treatment you do approximately every 6 weeks though it can really vary, I've had customers get 12 weeks out of it!
In the lash lift treatment, firstly we secure the bottom lashes down, the client looks up and we place a hydro pad down. The client then closes her eyes for the remainder of the treatment.
We pop a lash rod on the top lid with non latex glue (often glues can have latex in them, a lot of people have latex intolerance). There are 4 different rod sizes, the smaller you go the more curl you get. Some clients don't wait it too crazy as they find the lashes hit the top lid and it's annoying. So sometimes bigger isn't best. You can start with a lesser curls d 6 weeks later try a smaller rod.
Once the rods are in place we use the non latex glue to stick the lashes on to the rod, then a perm solution is on for approximately 6 minutes, this is taken off with a cotton tip and a setting solution is put on for approximately 5 minutes.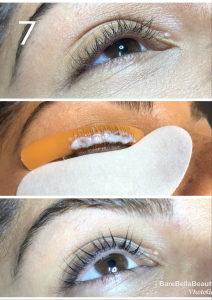 Then the setting solution and rod is all rinsed off with water by putting the head to the side and flushing the eyes area with water and a face washer to catch the water.
We then perform a lash tint as normal. Although because the perm has been performed the lash tint only needs to be on for 5 minutes because the hair shafts are very porous.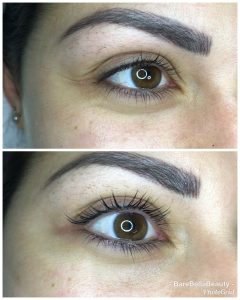 Thr post care for the next 24 hours, is no mascara (though you may not want to anyway), no oily products in fact I just say steer clear of products around the eyes for the next day, no steam (even round cooking) and it's maybe a big ask but laying on your back for the first night (or if you're a side sleeper don't crush the lashes. Also don't play with your lashes.