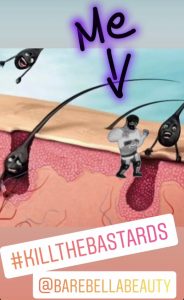 Well The Rolling Stones said I can't get no satisfaction and maybe my standards are low but the satisfaction of successfully killing bastard hairs is as satisfying for me as the customer on the receiving end! I do laser and electrolysis  so there's chance in hell they survive! I talk like I'm in war, because I am, against the hormones and stress and crap that goes on in people's bodies to make these "bastard hairs" (customers words, not mine).
Come to Balwyn North and talk to someone who loves it. Truly loves it, no matter what area, come and have a chat.
Call or book online to speak to me about laser for permanent hair reduction or hair removal. Or both. Some clients just want less some want it dead.
Greythorn Shops, above Viva La Fruit.
0425765971