Cindy Crawford had the beauty mark. Naomi Campbell had the legs. And now, model du jour Cara Delevingne is inspiring eyebrow envy everywhere. "We call it the power brow," says Benefit UK head makeup artist and brow expert Lisa Potter-Dixon of the Carainspired beauty trend that's trickling down from runways, prompting overzealous pluckers to reconsider their approach.

While Cara's full-bodied, impeccably shaped arches are no doubt having a moment, stars like Emma Watson, Lily Collins, and Rita Ora are making statement brows their signature on the red carpet, too. But Potter-Dixon cautions that not everyone should jump on the bigger-is-better bandwagon: "Trends change, but your face shape stays the same," she says. "Go for a look that suits you."
"The key is to put the arch in the right place," according to Emma Watson's trusted brow guru, Jigna Soni of Blink Brow Bar. How do you find yours? "Slant a pencil from the bridge of your nose to your iris," she says. But ercise caution when removing hairs—a bad brow-tweeze can take much longer to recover from than a bad haircut. "Thicker is always better," Potter-Dixon advises.
When in doubt, put down the tweezers and consult a pro. The skilled savants at Benefit's brow bars offer shaping consultations to customize, clean up, and—if necessary—correct even the most-botched brow form. If you're more of an at-home girl, always use a full-size mirror (instead of a compact) to keep your whole face in view. And remember: "Your brows are sisters, not twins," says Potter-Dixon. "They're never going to be perfectly symmetrical."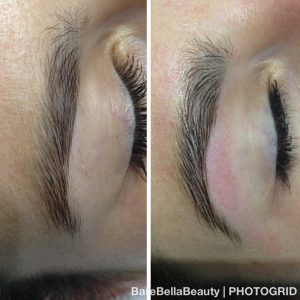 If yours are sparse, try layering textures to create the illusion of fuller, dimensional eyebrows. Start by applying a brow powder using an angled brush—it's the foolproof technique to beef up puny hairs. "A waxy pencil is great for filling in gaps and evening out your shape," says Soni. To keep your look natural, draw light strokes in the direction that your hair grows.
Finish with a tinted brow gel that sets hairs in place all day. To enhance Cara's brows backstage at Matthew Williamson, Potter-Dixon used Benefit's Gimme Brow gel, which has tiny fibers that resemble hair and add instant fullness to even the wimpiest of eyebrows. Proof that you don't have to be a supermodel to get in on the trend. Take that, Cara!
article by Elaine Welteroth – Teen Vogue