You've been plucking your lip and it's been fine, but lately you have found even plucking isn't keeping up with the growth, so you've started waxing or threading and what was an every now and then wax is becoming more and more frequent.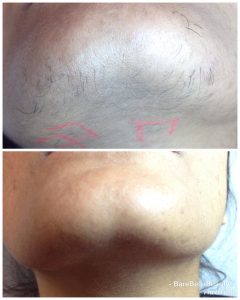 Some ladies wax every week, it's a frustrating but very normal occurrence.
Come to Bare Bella to kill this hair once and for all. I have IPL hair removal and electrolysis. The advantage of having both is, IPL hair removal can weaken the hormonal hair and electrolysis will kill it for good. Some clients do not have hair that will work with IPL hair removal, maybe the hair is too light thought quite tough. When the skin colour is a bit darker so the hair and skin colour contrast is not enough for the IPL hair removal to have a good enough impact. IPL hair removal can be a good stepping stone, keeping the hair down whilst killing the hair with electrolysis.
I love this treatment. I enjoy doing it and have had a lot of it done on myself too.
Come have a chat at Greythorn Shops and get started!
Call 0425765971 or book online here