Skin Resilience Collection – for sensitive or reddened skins.
This is a skincare edit of our most nurturing calming essentials for daily use or to re-create a skin-strengthening facial at home. Minimize redness and breakouts and restore your skin to a happily, hydrated state.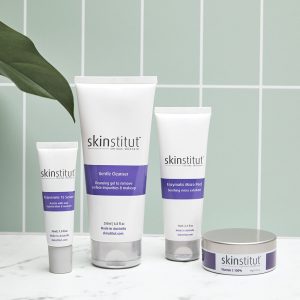 Bare Bella has created a special collection of products to help improve red, flushed, rosacea-prone skin or those experiencing fragile capillaries.
Our Skin Resilience Collection is a complete skincare solution and contains 6 skin savers that will calm and control redness, inflammation, and irritation while working to improve and fortify the skin.
Try adding some (or all) to your daily routine or follow our Steps below for a DIY Skin Strengthening facial.
Step #1. Gentle Cleansing
Cleanse and balance your skin with Gentle Cleanser.
Step #2 Hydrating and Vitamin Infusion
Mist the skin with this high Niacinamide (B3) Multi Active Mist
Step #3. Masking
Mix Skinstitut's Enzymatic Micro Peel and Vitamin C 100%, apply to skin and leave for 15 minutes before rinsing with warm (not hot) water. (After a few weeks can put this on and sleep with it on and so alternate with the Rejuvenate 15 Serum at night)
Step #4. Vitamin Infusion
Apply a pea-sized amount of Rejuvenate 15 Serum
Step #5.  Anti-inflammatory moisture
Finish with a layer of our trusted Laser Aid for antioxidant-rich hydration.
Pack includes:
$199 ($33 each)
Purchase this pack and get 8 Calming Infrared LED Light Therapy sessions for only $480 when you mention this special!