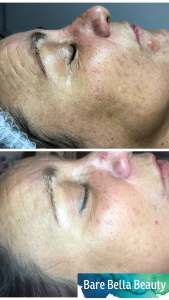 Are you suffering from Festive-season Face? Is your natural glow gone? Your once-smooth skin bothered by breakouts? Follow these 5 simple steps to help you erase every trace of the silly season and start 2020 skin strong.
 Step #1: A Deeper Clean
We all know that cleansing is the first step to complexion perfection. However, using a cleanser spiked with AHAs will deliver a much deeper, more efficient clean to decongest and detoxify skin. The powerful combination of Glycolic Acid and Tea Tree Oil in our Glycolic Cleanser 12% removes impurities and preps the skin for your next steps. It's suited to most skins (except red, irritated, or sensitive types).
Step #2: Chemical Exfoliation
We're fans of chemical exfoliation and the way it takes a can't-really-go-wrong, controlled approach to detoxing the skin and speeding up cellular turnover to encourage fresher skin cells to the surface. Our Glycolic Scrub 14% gets the job done and is also ideal for over-exfoliators who can't be trusted with a manual scrub. Glycolic Acid and Tea Tree Oil help to detox pores while biodegradable Jojoba beads gently buff and polish. Skin looks and feels smoother immediately. See?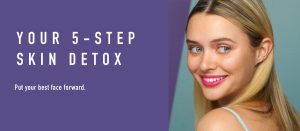 Step #3: Refine
Uneven tone can make skin look muddy and mask your natural radiance. Our Even Blend Serum  addresses the key culprits (that would be you: age spots, pigmentation and expired skin cells) daily with a two-step process. First, exfoliation with Glycolic Acid and Daisy Flower to refine the skin's surface, and then brightening with algae Wakamine extract.
Step #4: Don't Skip Moisturiser Just Because You're Oily
All skins need hydration to look their healthy and radiant best and our Moisture Defence – Oily Skin is a custom-designed moisture hit for acneic and oily skins. Trust us, this is oily-skin-safe, lightweight hydration with a flattering matte finish that helps to reduce oil flow, not add to it.
Step #5: Treat Yourself
If you've been diligent with Steps 1-4, then reward yourself and amplify the effects with our professional Peel Accelerator treatment. But if you know you're never going to be that diligent (no judgement), then don't waste another second and outsource your detox instead. This in-clinic treatment is a fast-tracked skin detox of sorts and helps to renew, brighten and smooth your skin via a concentrated chemical exfoliant of Vitamin B, antioxidants, and natural fruit acids. Wow, look at you now.