In covid times it's important to look after yourself both mentally and physically.  Blemishes on the skin are often the source of irritation and discomfort, which can make day to day activities that little bit more stressful than they have to be.  At BBB I can recommend a number of treatments for concerns you have about your skin, and skincare routines that work as preventative measures.
Preventative Measures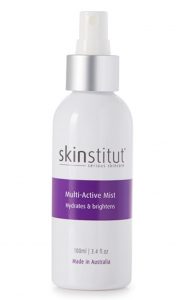 Niacinamide (vitamin B3) reduces redness and pigmentation by reducing irritation from environmental factors.  It is great for blotchy skin and uneven or marked skin, including from acne, rosacea, wrinkles or hyperpigmentation.  It can also be used in preparation for applying retinol (vitamin A).  It is not enough for a product to have a high percentage of niacinamide in it, you MUST have a delivery system in order to see results, which some products unfortunately lack.
Niacinamide is also a great alternative to retinol for sensitive skin, it will improve the skin's barrier just like retinol; it is safe for all skin types and will in fact nourish and calm the skin, strengthening your skin's anti-oxidant properties and helping it to function better (another option is botanical vitamin A).
Regular cleansing (though it is good to just cleanse at night (so AM just start with the Mist) ….with an AHA like lactic or the stronger glycolic acid will also help with penetration by removing and breaking up the top most layers of skin.  Gentle Cleanser and Enzymes exfoliation can also be used if your skin is sensitive, also Microbiome Micellar Water to use in the AM.
Skinstitut Multi Active Mist has the strongest dose of all the range. Rejuvenate15 has botanical Vitamin A.
Treatments
There are some serious results driven treatments, LED Light Therapy probably being the best. Originally developed by NASA, it has been found to have promise for treating wounds and in use for skincare.  Delivered at the correct wavelength LED effectively recharges cells, triggering a synthesis of ATP (adenosine triphosphate) in the powerhouse of the cells, the Mitochondria which creates cellular renewal from essential energy and removes waste. Healthy cell environment makes room for fibroblasts to form which are responsible for creating new healthy collagen and elastin which make our skin look clearer and fuller and gives it bounce.
Collagen Induction therapy (skin needling) is another therapy, which involves a very minor amount of damage to the skin to create a wound response, which causes collagen generation as well.  IPL Rejuvenation works the same way but uses thermal skin heating and corrects damaged cells.
Ask me next time you're in, for the best approach to your skincare routine and  suitable way for you to include these ingredients in your skincare routine.