The power of vitamin A 🤯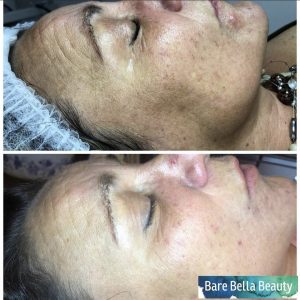 Bare Bella encourages everyone to be on topical vitamin A in some form, whether it be retinol or botanical vitamin A for sensitive skin and or Retinol peels… and a great partner to Retinol is Niacinamide b3.
This is why I offer peel packages. Purchase 3 and get 20% off and receive 3 Skinstitut products! ..or purchase 6 and get 30% off and 3 Skinstitut products!
This is perfect as it's a much better result if you are prepping at home and then doing aftercare.
Just look at this result after one vitamin A peel which is the Ageless Peel (she was prepping with alternative Retinol  and Enzyme Micro