You've been doing your best to maintain your complexion with regular Microdermabrasion's  and other skin treatments and skin peels, yet you can't help but wonder why you keep noticing fine lines (especially on your forehead and around your eyes) plus sometimes have a dull, blemish prone skin? What is going on? First of all, you can breathe a sigh of relief, these minor skin changes are not an indication of premature ageing (few!), in fact fine lines, tight/shiny or scaly looking skin that has minor blemishes and breakouts is actually an indication that your skin is dehydrated.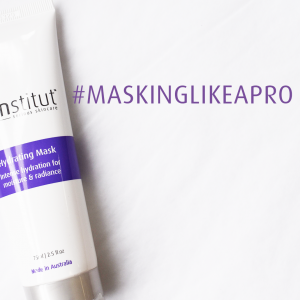 Dehydration is generally caused by our lifestyle (rather than our genetics or skin types). Recent stats show that up 98% of the population experience some level of skin dehydration. So chances are you will fall into this group at some point in time (most likely sooner rather than later).
So how does your skin actually get dehydrated? Essentially dehydrated skin is caused via
moisture/water loss (not a lack of oil). Ironically, you could actually have oily skin that is also dehydrated.
Possible causes and contributors for skin dehydration
– Air conditioning or climate
– Hot showers and running water over the face in the shower
– Diet (high in sodium or caffeine)
– Medications or illnesses
– Cigarette smoking
– Poor cleansing (using soap or cleansers that strip the skin leaving it feeling 'squeaky' clean) – Inadequate moisturisers (too light)
– Over exfoliating using abrasive scrubs too frequently
– Astringents (alcohol based wipes or toners)
– Ageing
Your solution – Masking!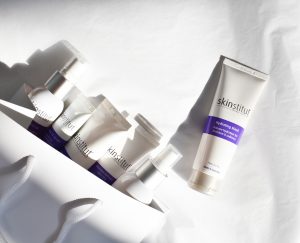 In one easy step you can completely transform dull, lackluster skin – simply use Skinstitut Hydrating Mask for 10 – 15 minutes a few times per week for instance radiance and intense hydration. Packed full of natural vitamins including plant extracts such as ginger, chamomile and raspberry extract to replenish and strengthen tired looking skin.
Leading into Spring and Summer, your Hydrating Mask will give your skin that extra glow when used before any special event (our experts suggest using it after an exfoliation with Glycolic Scrub 14% for a quick at home DIY facial).
It is perfect to use after a long flight or if your skin is feeling tight and stressed or simply as an intensely moisturising mask to relieve irritated and vulnerable skin.
3 reasons why your Hydrating Mask will become your must-have weekly mask: – Plumps up the skin to reduce the appearance of fine lines skiny
– Acts as a multi-vitamin for the skin to improve skin radiance & luminosity – Keeps the skin in a constant state of hydration (even in air-conditioning) for a nourished, refined looking complexion that feels like silk
Pro Tips #maskinglikeapro
 May be used as an eye mask, leave on for 10-15 minutes then rinse with water  Use as protective/hydrating mask on long flights
 Can be slept in for a deep moisture treatment
 Use post skin treatment to soothe and hydrate sensitised skin
 Use after sun to calm and soothe
To keep you skin looking fab; why not try some of our hydrating lifestyle tips while you're at it: – Eat plenty of foods that are rich in essential fatty acids (such as oily fish, nuts & seeds, avocado)
– Avoid excessively hot showers and try not to let the water in the shower run directly over your face for long periods of time
– Rely on fresh air ventilation and minimise your use of artificial heating or cooling where possible
– Avoid high consumption of caffeinated beverages such as coffee, tea, energy drinks and soft drinks. Try to alternate intake with caffeine free herbal teas that won't be as dehydrating to the body
– Try to limit prepared meals and take away foods as these can be very high in sodium – Drink plenty of water
Happy masking!