Try Skinstitut's latest product release – Microbiome Micellar Water. This multi-tasking cleanser and make-up remover is loaded with skin loving superstars (like green tea, coconut water and Vitamin B5) but also includes the skin balancing hero – Inulin (as a prebiotic). Designed to remove dirt, oil and pollution from the skin while hydrating and calming the complexion, Skinstitut's Microbiome Micellar Water can be used while on the go or as the first step in your double cleanse routine. Best of all it's free from nasty detergents, chemicals, fragrance and colours and is suitable for all skin types and conditions.
For years we've talked about the importance of maintaining the skin's barrier function to contribute to its immune function, upping the vitamin B in products to have a fortification. Now there's another important contender in skin immunity that we're learning more about – the microbiome.
To have flawless and beautiful skin, the microbiome must be balanced as mentioned my previous biome posts. As soon as this invisible ecosystem becomes imbalanced you will notice an increase in skin irritations or imperfections. An imbalanced microbiome is known as skin disbiosis and can contribute to a wide range of skin conditions including: dandruff and fungal infections and possibly has links to eczema, psoriasis, acne and rosacea.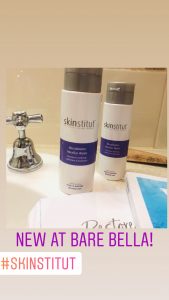 @skinstitut 's MICELLAR WATER is for all skin types and conditions
💧 Ultra-gentle makeup remover
💧 Multi-tasking, suitable for use on the face, eyes & lips
💧 Removes damaging pollution from the skins surface
💧 Protects against oxidative stress 💧 Hydrates and smooths the complexion
💧 Calms redness and inflammation
💧 Helps promote a balanced skin microbiome
💧 The first step in every double cleanse routine
💧 Free from nasty detergents, chemicals, fragrance & colours
Inulin (Prebiotic), Aloe Vera, Allantoin, Green Tea, Provitamin B5 & Coconut water