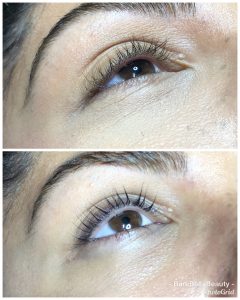 Lash Lift is the new lash perm. INTRO offer $50 book online! Link HERE.
At Bare Bella I use the best on the market with non latex glue (which is often an issue, apart from allergies, a lot of people are intolerant to it). The lash lift process is an hour treatment, the bottom lashes are securely down with a silicon strip and the eyes are closed while we measure the size of your lashes with 4 different sizes of comfy silicon strips, the lashes are curled over the strip while i give you a pressure point massage. It is all rinsed off with water, and a lash tint may follow. Lash lifts last around 6 weeks though can depend on the lashes. 
INTRO OFFER COME IN FOR SUMMER (till end of Feb 2019) AND GET A LASH LIFT + #LASHTINT FOR $50 (Normally $85)
.