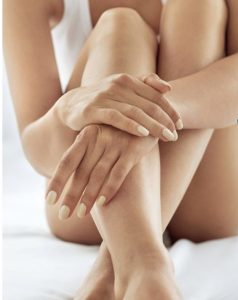 Have you completely finished all your treatments? What should you do with the remaining hair? To be clear laser or IPL are very similar (not technically) but they both create energy that creates heat that "cooks" the moisture in the follicle. Not all hair will die which is why it's called laser hair reduction, but some hair will never come back. The greater the contrast in hair and skin colour makes the results better. 
Ok so back to post laser hair growth…
Once finished the required treatments and results, (remember you can come back to laser at a later time, 6 months, 6 years later.. no matter what you do to the area)
I recommend to wax legs, bikini and underarms every 8-12 weeks whether with your beauty therapist or at home. If you think there's no hair just do it anyway, you'll be able to look at the strip and see there's actually some hair. Be gentle to your skin post wax. 
If it is face, breast or belly, I recommend to do electrolysis. You may not need to but if you do anything just speak to an electrologist like myself who will look after you. Do not pluck or wax the hair, this MAY stimulate it. (Generally speaking if there is no hormonal problems in the first place a wax here or there once in a blue moon is ok…. but then if they have done some laser hair removal there must be an underlying hormonal issue.
Call Bare Bella in Balwyn North, Melbourne 0425765971