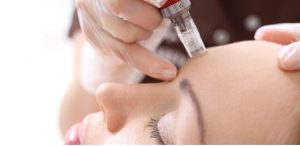 Fractional Mesotherapy is a non-invasive treatment delivered via the Wireless Tri-M micro needling device. The device uses medical grade stainless steel needles that vertically micro pierce the skin, essentially working down to the dermis, leaving the outer layer of skin, the epidermis, intact. A new cartridge of needles is used per person.
The electronic device uses a powerful motor allowing the needles to move quickly in and out of the skin. This creates micro channels in the skin, stimulating the body's natural collagen production while also dramatically increasing the bio-availability of topical treatments and further enhancing their absorption and efficacy. This also forces the skin into wound repair and all the benefits with that including new baby collagen that continually matures forever. Unlike Botox or fillers that lasts a certain time. Click here for the benefits 
call 0425765971 or book online here!